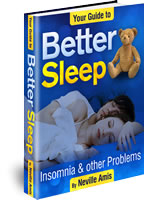 Your Guide to Better Sleep by Neville Amis
Have you difficulties getting enough sleep? Do you toss and turn through ther bed every night? What is that causes poor sleep quality, and can this be remedied? How much sleep is needed by an individual? What about allowing your pet to share your bedroom and even bed with you? Do you supper from sleep apnea? What about jet lag?

This book written by Neville Amis will give you the inside track on resolving these and similar sleep-related problems.
Get your copy here and put yourself in a strong position to get your sleep problems solved or at least relieved.
---
We Also Recommend